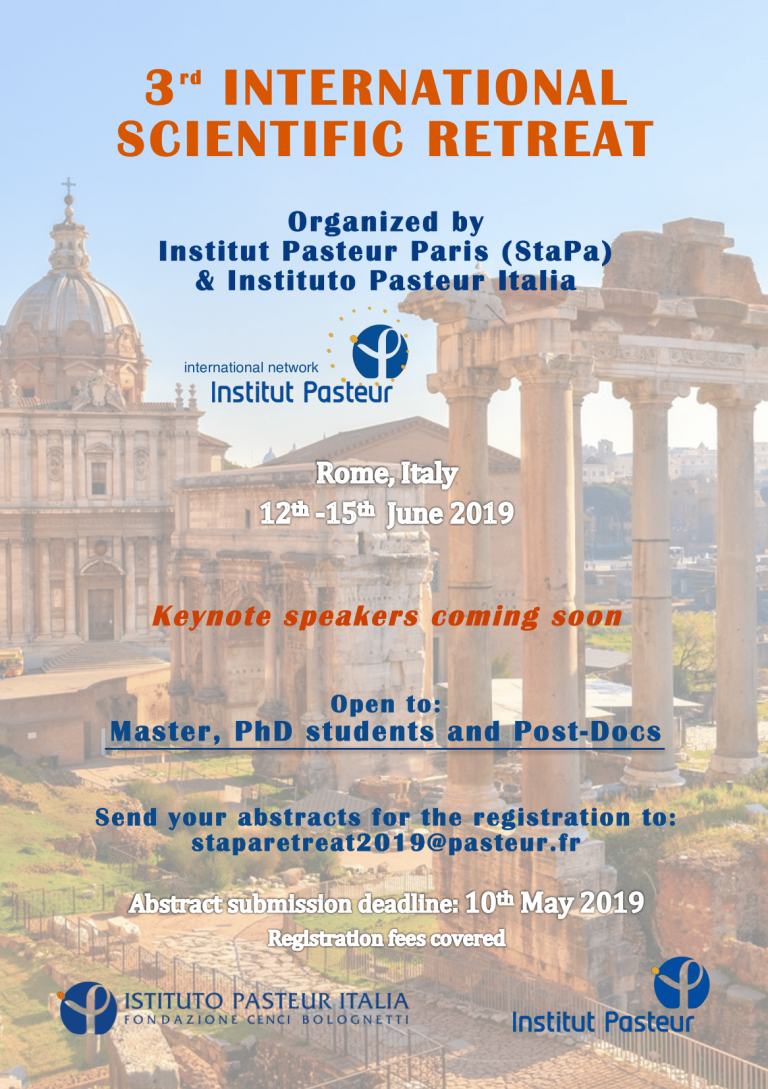 Dear Master and PhD students and PostDocs,
It is our pleasure to announce the third international StaPa retreat with the collaboration of the Instituto Pasteur Italia. It is going to be the second retreat in the international Pasteur network and this time it will be held in Rome on June 12-15, 2019.
This is a good opportunity to learn how to synthesize, present and vulgarize ones scientific data in front of peers. There will be poster and oral presentations from both institutions and an atmosphere of trust for both the speaker and the audience. The retreat is also a wonderful event to socialize and create bounds or even collaborations between researchers within the Pasteur network and the keynote speakers. This is also an occasion for young researchers who do not have the possibility to go to conferences to present their scientific advancement in front of the community.
The event is completely funded by the respective departments, StaPa and International Network of Institut Pasteur. We will make all the arrangements for travel, food and stay during the course of the event.
We invite all Master and PhD students and PostDocs to submit your abstracts following this template before May 10, 2019 May 15, 2019 to staparetreat2019@pasteur.fr.
It is important to mention from which department you are and whether you would like to participate in the poster or the oral presentation. Abstracts will be selected by each department.
We are looking forward to reading your abstracts and having an excellent retreat with you all.
StaPa Retreat Committee 2019
Alexandra MOINE-FRANEL, Anna SEGÚ CRISTINA, Brenna CONIN, Cristina FERNÁNDEZ MOLINA, Jose Americo NABUCO, Nicolas MALAUSSE