StaPa was formed in 2002 to help Interns, Graduate Students, and Post-Docs integrate and immerse themselves into the scientific and social culture at the Institut Pasteur, and France in general.
Your loving StaPa bureau and committee 2017-2018!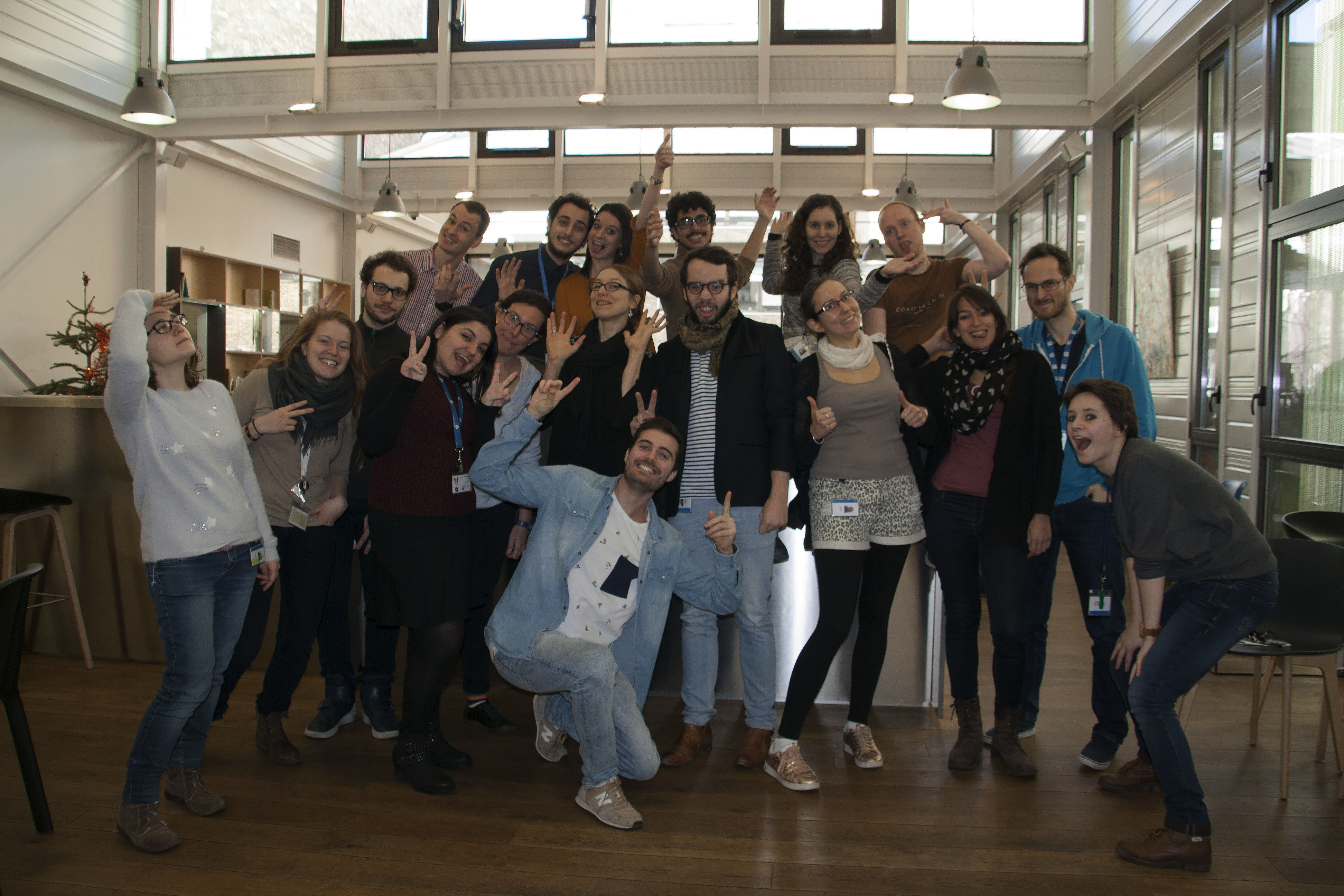 Every fall, StaPa organizes the election of the new StaPa bureau and committee. In fact most positions are open to several candidates, so the vote is generally restricted to the president.
These elections are open to the whole StaPa community (i.e. members who have subscribed to the StaPa mailing list) who can vote and present themselves to the different positions in the bureau or in the committee.
Organisation of StaPa activities
Each year, the different social and scientific StaPa activities are distributed among the members of the StaPa bureau and committee, according to availabilities and preference. Monthly StaPa meetings are scheduled to (re)define these activities, report advances, bring ideas, take new decisions etc.
These meetings are open to the whole StaPa community whose ideas and help is highly appreciated (we recommend sending an email to the bureau to confirm the date and time)! Furthermore, StaPa members who missed the elections but feel motivated should not hesitate to join the organizing team at any time of the year.
Description of the positions
The treasurer manages the StaPa bank account.
With the president he suggests an annual budget in the beginning and keeps a close eye on respect of this budget along the year. With the bureau, he is involved in discussions with the Pasteur Direction for funding proposals or extra fundings to be negociated.
For every StaPa project, he makes sure that invoices are paid, people reimbursed or sometimes buy directly necessary things. Consequently, he is more or less involved in every projects of the association.
He is also in charge of the logistics for the Friday Social Hour, by ordering drinks every 3-4 months and counting donations collected during these events.
His work also provides an important part of the StaPa archives, by recording every invoices and budgets.
As everyone else in the bureau/committee, he is involved as much as he wants in organization of social and scientific events.
People


2017-2018 : Justine Basset, Alexis Voegele
2016-2017 : Thomas Labadie
2015-2016 : Thomas Labadie
2014-2015 : Cécile Troupin
2013-2014 : Emmanuel Quemin
2012-2013 : Chloe Connan
2011-2012 : Chloe Connan
2010-2011 : Fernando Guimaraes
2009-2010 : Miguel Dias Lopes
2008-2009 : Miguel Dias Lopes
2007-2008 : Ines Sequeira
2006-2007 : Ines Sequeira
2005-2006 : Jost Enninga
2004-2005 : Ninog Peresse
2003-2004 : Encarnita Ferrandiz
2002-2003 : Mireille Centlivre
The StaPa president is important to set the tone of StaPa each year within the bureau/committee and on campus.
The president is at the forefront of relations with Pasteur administration and other official entities. The president makes sure that the StaPa activities are carried out according to plan and that the budget is controlled. Of course, the president is never alone to face these duties and always has support from the bureau and committee.
This is a position that can be demanding but is also very rewarding in terms of self-confidence, image and often great trust and friendship with bureau and committee members.
People


2017-2018 : Borja Rodriguez de Francisco
2016-2017 : Carolina Mizuno
2015-2016 : Claire Pancrace
2014-2015 : Henri Jupille
2013-2014 : Ambroise Lambert
2012-2013 : Jason Bland
2011-2012 : François Vromman
2010-2011 : Alexandre Dufour
2009-2010 : Alexandre Dufour
2008-2009 : Séverine Collin
2007-2008 : Elodie Brient-Litzler
2006-2007 : Muriel Tauzin
2005-2006 : Damian Page
2004-2005 : Ramkumar Samhasivan
2003-2004 : Déborah Braun
2002-2003 : Alix de la Coste (ép. Maure)
VPs' roles might seem vague but they are extremely important. VPs act as support of the president, saving him/her from drowning and are strong motors for Stapa. VPs will usually take part in the organisation of the main activities and make sure that everything goes well.
There's no restriction to one VP, the important point is that VPs will push the association forward and are reliable to participate actively in the life of the association.
People


2017-2018 : Nicolas Malausse
2016-2017 : Sonja Kühn, Kartik Soni
2015-2016 : Benoit Besson, Alexandra Kumichel, Laura Sinigaglia
2014-2015 : Benoit Besson, Simeon Carstens
2013-2014 : Mathilde Cosse, Natalie Fischer
2012-2013 : Ambroise Lambert, David Hardy
2011-2012 : Raquel Hurtado, Nora Mellouk
2010-2011 : Ana Cristina Sotomayor, Fabrizia Stavru
2009-2010 : Soudeh Ehsani, Fernando Guimaraes
2008-2009 : Ines Sequeira, Elie Toledano
2007-2008 : Giorgia Pallafacchina
2006-2007 :
2005-2006 : Guillaume Desanti
2004-2005 : Guillaume Desanti, Gianfranco Grompone, Yi Hao, Fabrice Letimier
2003-2004 : Cécile Gasse, Patrick Schwarz
2002-2003 : Cyril Badaut, Marie Cherrier
The secretaries have an important role maintaining a record of all StaPa meetings, internal and external. This helps efficiency and avoids redundancy in meetings about who is in charge of what, when, etc. Secretaries have a global vision of the StaPa activities undertaken and can find time to help with various activities if they feel like it!
There's no restriction to one secretary and having several secretaries is really helpful to assure the presence of one at every meeting.
People


2017-2018 : José Américo Nabuco L F de Freitas
2016-2017 : Bianca Balbino, Nowsheen Mullani
2015-2016 : Carolina Mizuno, Darragh O'Brien
2014-2015 : Moses Evbuomwan, Camille Rey
2013-2014 : Moses Evbuomwan, Kasie Raymann
2012-2013 : Juliane Lippmann, Pierre Maisonneuve
2011-2012 : Marine Malbec, David Hardy
2010-2011 : Olaya Rendueles Garcia
2009-2010 : Mélanie Béraud, Séverine Collin
2008-2009 : Mélanie Béraud, Morgane Dolez
2007-2008 : Ana Antunes, Dorothée Le Guyader
2006-2007 :
2005-2006 : Muriel Tauzin
2004-2005 : Guillemette Masse
2003-2004 : Alice Lebreton
2002-2003 : Valérie Soulard
The StaPa webmasters are the keepers of the mailing list, the facebook page, the twitter account and maintain StaPa's internal webcampus page and external website (here!). This is key to attract new StaPa members and communicate events and activities around. The webmaster mission is to always improve the visual aspect of the website and maintain pertinent information! Hence, skills in webdesign are highly welcomed. This is a fun and creative position in StaPa.
There's no restriction to one webmaster and the functions can be easily split according to the skills of everyone.
People


2017-2018 : José Américo Nabuco L F de Freitas
2016-2017 : Magdalena Gil, Camille Rey
2015-2016 : Matthieu Fritz, Pedro Hernandez-Cerda, Julien Karim Malet
2014-2015 : Nizar Fawal
2013-2014 : Christophe Becavin
2012-2013 : Christophe Becavin
2011-2012 : Susanne Duncker
2010-2011 : Julia Forman
2009-2010 : Elie Toledano
2008-2009 : Dorothée Le Guyader
2007-2008 :
2006-2007 :
2005-2006 :
2004-2005 :
2003-2004 :
2002-2003 :
The StaPa committee is not bound to any task in particular, but provides help to the bureau in all sorts of ways. A committee member can provide help in little things but also undertake bigger tasks and responsibilities depending on his or her's initiative, motivation and ideas. This is an ideal position for someone who hesitates to join the StaPa bureau responsibilities, is unsure of his or her's commitment but wants to be part of the game.
Come as much as you want in the committee, and all along the year. We always welcome some help.
People


2017-2018 : Alexander Serov, Anthony Woo, Bianca Balbino, Carolina Mizuno, Dariusz Czernecki, Dylan Cherrier, Emeline Simon, Elodie Pothin, Gonzalo Moratorio, Jorge Andre Sousa, Laura Barrio, Magdalena Gil Taran, Mariano Genera, Mathieu de Jode, Nowsheen Mullani, Philippe Rascle, Samuel Hanot, Sarah Lesage, Sonja Kuhn, Yves-Joel Diegues
2016-2017 : Laura Barrio Cano, Dylan Cherrier, Joel Diegues, Jibby Frantz, Marwah Karim, Alexandra Kumichel, Matthieu Fritz, Morgan Gaia, Samuel Hanot, Pedro Hernandez, Gonzalo Moratorio, Darragh O'Brien, Laura Sinigaglia, Jorge Sousa, Jingshu Zhang
2015-2016 : Christiane Brenner, Laura Barrio Cano, Joel Diegues, Nizar Fawal, Jibby Frantz, Sonja Kuhn, Vincent Legros, Gonzalo Moratorio, Camille Rey, Dwayne Roach, Cecile Troupin, Jingshu Zhang
Each department has elected representatives for PhD students and postdocs who can give advice, answer questions, and hear your concerns. These PhD students and postdocs represent your interests to the administration and advocate for changes that benefit you across the Institut Pasteur.
In addition, representatives are trying to create a community within the institute to facilitate networking, socialization, and collaboration.
Join them by getting in touch with your departmental representative :